Paul Abbott 6.03am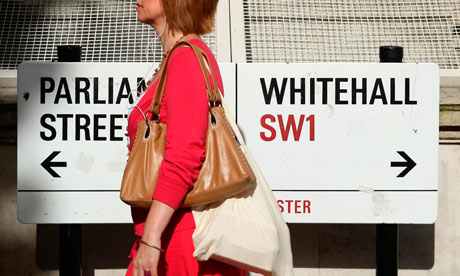 A defining moment of the 2010 general election was when George Osborne, at a private meeting of candidates and volunteers, said: "We didn't lose in 1997, 2001 and 2005 because a few thousand people went to fringe parties. No. We lost because millions of people went to Labour."
This is the most basic and fundamental political insight for the Conservative party. It should be writ large on the wall of every Minister, Member, think-tanker and researcher. It should scroll across our PC screensavers, and be inscribed on our mobile phones.
Why? Because as soon as we forget it, we will all be back in Opposition again for another thirteen years.

There is a strain of language out there today that confuses a desire to cut the deficit with a dislike of the pubic sector. Thus we hear constant attacks on Civil Service salaries, or libertarian fantasies about a no-holds-barred economy. We hear endless calls for tax cuts for millionaires, but not enough about tax cuts for the millions of people on ordinary wages.

This has to stop. Many low-paid workers voted Conservative in 2010. In fact, in June 2009, of the public sector workers questioned who were "certain to vote", Ipsos MORI reported that 32 per cent would vote Conservative, 29 per cent for Labour and 19 per cent for the Lib Dems.
Everyone wants the public sector to be good value for money. Of course this means thinning out the quangos and endless back office administration. But surely we are happy to pay for positive outcomes? What is wrong with higher salaries for nurses, teachers, university lecturers, immigration personnel and police officers, if they are doing a good job? If we do not pay good wages, how else can we persuade bright young graduates to become public servants, rather than City solicitors?
There will inevitably be some hardliners who say that this argument is soft, liberal sogginess. To them, I say this: remember 1997. And 2001. And 2005.
There is nothing socialist about standing up for the admirable parts of the public sector. One of Tony Blair's great domestic triumphs was to rebuild the public realm, which had been neglected in the 1990s. This was a large part of his electoral appeal.
The first political office that Margaret Thatcher held was in the Conservative Trade Unionists. One of her first acts as Prime Minister was to increase the wages of rank-and-file police officers.
Too many dodgy PFI deals were struck and billions of pounds were wasted, but there was a genuine public appetite for things like better motorways and more police officers. Such public policies should not solely be championed by the Left.

This is so often merely a matter of emphasis. Many Conservative Ministers are already quietly finding ways to reward deserving public sector workers. Academies and Free Schools can pay good teachers more than the national union rate. Nurses can set up co-operatives and have a stake in the success of their clinic. George Osborne has protected the pensions of the lowest paid civil servants, and boosted their income by £250, despite a general pay-freeze. There are lots of other examples. But we need to make more of them. Champion them.

I accept that Britain is still too dominated by the public sector, and that we need to rebalance our economy. I accept that Labour wasted our money, and hopelessly ran up debts. I accept that Ed Balls in particular seems to have an almost criminal disregard for our financial stability.
But we are in Government now. It is our public sector. We should look after it.
Follow Paul on Twitter @Paul_t_abbott