Victoria Roberts 11.41am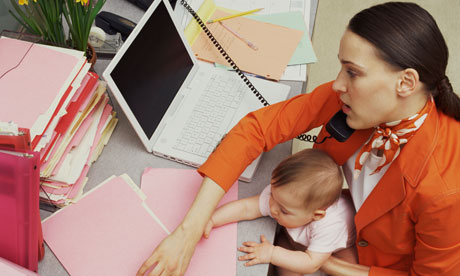 Taking inspiration from a recent interview in the Times (£) with the Danish prime minister, Helle Thorning-Schmidt, I would like to set out what we could learn from Scandinavia about child care. The things that could, longer term, keep women at work in those crucial career-building years, so that one day we could see an increase in the amount of women in the highest positions.
We are losing out on too much talent as skilled, educated women depart the workplace in order to have and to raise children.
Whether this happens because child care is too expensive or because of societal pressure or guilt, we need to address this female exodus. I have often joked that the Daily Mail finds itself in a quandary because its editors are never sure who is more deserving of its vitriol: working mothers or single mothers!
In Scandinavia, working mothers do not face the same pressures as they do here. Child care is of good quality (nursery staff are likely to hold degrees in child development) and accepted as a necessity. In Britain, the variations in quality are shocking and guilt is almost universal.
Of course, governments can only intervene so much but they can nudge and adopt policies to promote high quality, affordable child care. And the right policies can work: Denmark ranks fifth in the OECD for female participation in the economy, while Britain is fifteenth; 40 per cent of Danish MPs are women, yet only marginally over 20 per cent for British MPs.
Making changes wouldn't give us 20 per cent of women on company boards within five years but they would facilitate a natural, longer term trend. Quotas could be a necessary evil in the short term (they are backed by the Tory MP Matt Hancock, while David Cameron won't rule them out), but only positive changes to child care arrangements will work in the long term.
As important as this topic is, it irritates me that it is seen purely as a women's issue. If a significant proportion of the population is unable or unwilling to participate in economic activity then we all lose out. And if we expend public resources training women only for them to give up work when they have children, then we all lose out.
Businesses miss out on talented people who could generate more economic activity, more revenue and more taxes.
This really is not just a women's issue. It is not about tax breaks for 'yummy mummies'. It should be a national priority.
George Osborne must be radical in his forthcoming Budget. He must simplify our tax system and shift weight of taxation from income to wealth. The first step should be, as Craig Barrett has argued on these pages recently, to end the 50p income tax band and, as David Cowan wrote last month, levy a more effective property tax, such as the land value tax (LVT) advocated by Nick Boles in his recent TRG Macmillan Lecture. A proportion of the revenue generated should then be earmarked for measures to help women stay in the workplace, where they can help to support the British economy.