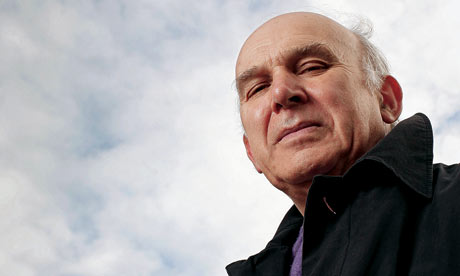 Matthew Robertson and Nik Darlington 2.00pm
"I incline to Cain's heresy," he used to say quaintly: "I let my brother go to the devil in his own way."
The Business Secretary, Vince Cable, has given a stark warning of the damages that could befall the British economy by following too 'green' an agenda.
At a public meeting on climate change yesterday in Richmond, Dr Cable described how the Indian giant Tata is closing its steel plant in Scunthorpe because of the UK's strict environmental regulations. He said that although green technology could promise thousands of new jobs in the UK, the decarbonising of our economy leaves us with difficult decisions about communities who rely on industries such as steel and chemicals. The skills of a steelworker and not exactly readily transferrable to those of a manufacturer of photovoltaic cells.
Dr Cable was at the centre of a recent Cabinet battle over the Committee on Climate Change's Fourth Carbon Budget. A leaked letter to Nick Clegg and George Osborne spelt out the Business Secretary's deep concerns about its impacts on British competitiveness. In a strange alliance, Cable sided with Tories like Osborne and Philip Hammond against the Lib Dem Energy Secretary, Chris Huhne. The Government eventually accepted the carbon budget but not before inserting a get-out clause to appease Dr Cable.
Almost overnight, Dr Cable became Dr Jekyll. The man usually loathed by many of the Tory right was suddenly its hero, standing up for British business against woolly climate change targets.
But befitting his position as a Lib Dem MP, Vince Cable has a touch of Mr Hyde to him. At the climate change meeting last night, he declared that in the 1980s he had written environmental speeches for government ministers and today he focuses heavily on environmental concerns in his Twickenham constituency. He spoke in detail about the merits of the coalition's Energy Bill and the new Green Investment Bank.
When an audience member asked whether Britain could impose environmental tariffs on other countries, Dr Jekyll Cable said that we rely heavily on trade, especially as we try to export out way out of recession. We must be very cautious about damaging the competitiveness of British businesses, to which someone rebutted that it was a bit like a burglar saying he wouldn't stop stealing because it would benefit his competitors. Touche.
Soon he was back to being Mr Hyde. Sharing the platform with him was Zac Goldsmith, the local Conservative MP, who said that the environment "is not top of our individual lists but it is the most important issue facing us today." Vince Cable nodded sagely and agreed by saying solemnly, with a face as straight as a mine shaft, that climate change is our biggest problem and it was a shame that not more people made it a priority.
A man with words for any and every audience, evidently.