Sara Benwell 11.03am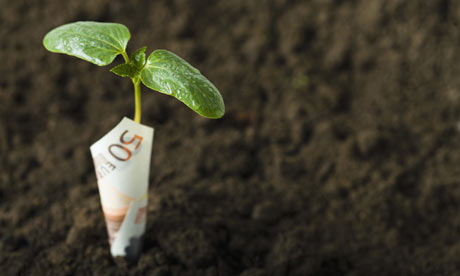 Ethical investment is seriously hot right now. Last week was National Ethical Investment Week, the week where everyone is encouraged to put their money in funds that will save the world, or will at least not outright harm it.
There's a broad range of ethical investments: from those focusing on being environmental, sustainable or just generally socially responsible, to those simply avoiding funds that might be considered ethically dodgy, such as weapons, alcohol, pornography or gambling.
The Government has been pushing social investing over the last two years, supporting 'impact investing', and launching Big Society Capital, an initiative designed to take an estimated £400 million from dormant bank accounts to help develop the social investment market. It is also launching the world's first Green Investment Bank to provide financing for low carbon investment projects (see Alex's previous coverage of it here).
It's not just the Government. There is strong evidence of increasing consumer demand for greener investments. In fact Triodos, a bank specialising in ethical investments, has seen a 78 per cent increase in people wanting to open savings accounts. It has also doubled the money coming into its accounts each year. Furthermore, according to Eurosif, the Brussels-based European Sustainable Investment Forum, the amount of money in the UK invested in a "sustainable and responsible" manner has reached an estimated £275 billion.
The obvious reasons behind these funds are morality-based, but an investment needs to make money too or it's just a waste of time. Yet can ethical investments offer real returns?
They are somewhat subjective, insofar as they depend on what any particular individual considers to be morally important, and the process is far from straightforward, but that doesn't mean there's not money to be made. Ethical investments, bank accounts, pensions and mortgages are now available to most consumers.
However, renewable energy has been a disaster for ethical investors recently, with wind and solar power systems companies being among the worst-performing stocks in the last few years.
For instance, the Guardian reported that Vestas, the Danish wind turbine maker, had cost investors almost 95 per cent of their money. The article also reported that the BlackRock New Energy Investment Trust has fallen 49.9 per cent since 2007. Furthermore, negative screening of so-called 'sin funds' mean that investment products are less diversified and there is less recourse to defensive funds, which can lead to volatility. These are just some amongst a multitude of examples, illustrating why many people are wary when it comes to 'being ethical' with money.
Nonetheless, there is some evidence that it's possible to be ethical and still taking care of your money.
One theory is that companies on the right side of the ethics debate are less likely to fall out with regulators, end up in expensive court battles or face strikes or boycotts of their products from consumers. All of these can impact reputation and even share price, so ethical companies should look like good long term prospects.
This is illustrated in the pensions industry, where an increasing number of funds are declaring support for the UN-backed Principles for Responsible Investment (PRI), an institutional investor initiative for ethical investment. The number signed up has jumped by over a quarter in the last two years.
Furthermore, there are those out there who believe a carbon-based economy is unsustainable, for obvious reasons. This too suggests that forward looking ethical investments are likely to do well in the long term.
Another thing to consider is as public opinion shifts, and we care more and more about everything from whether our eggs are free range to whether we invest ethically, it seems likely that the value of companies who can prove to stakeholders that they have sustainable values will rise.
It is important that the Government continues to support ethical investments, and it is encouraging that the public is beginning to demand how their money is made and at whose expense.
However, there must be further support and ambition from both the Government and the financial services industry if ethical investment can be sustainable. Meanwhile the Coalition should be wary about throwing money behind schemes that may leave people worse off, especially in a financial crisis. It's all well and good being "ethical" but it will backfire if it costs people their pensions.
There are ethical funds that perform well, so perhaps the government should think about putting its money towards education, so that people are equipped with the knowledge to do the right thing – whilst also putting the pennies away for the future.
Follow Sara on Twitter @sarabenwell