Henry Hopwood-Phillips 11.17am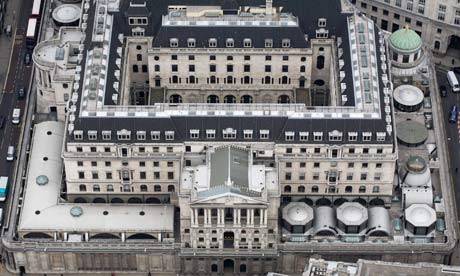 We live in a time in which political correctness handicaps political honesty and a lack of capitalist courage hobbles market transparency. Churchill famously remarked, "when the eagles are still, the parrots begin to jabber". And Orwell warned us that "to see what is in front of one's nose needs a constant struggle".
We are stuck in an economic quagmire because fractional reserve lending, in layman's terms "unbacked credit", has created a system funding activities (mostly non-productive) that a free market would never support. Activities that consume and do not produce any real wealth.
This in turn creates an atmosphere in which checks and balances in the capitalist system, e.g. Glass-Steagal Act (repealed 1999), start to seem anachronistic. Attitudes of important offices, e.g. mortgage underwriters, become lax. And collateral values are allowed to decline, as easy credit distorts the market.
In 2007-8, this credit bubble started to rupture. The trigger was US sub-prime mortgage lending but no doubt the day of judgment would have come sooner had the 'masters of the unvierse' not chopped and mixed good and bad debts into unfathomable CDSs, CDOs, MBSs and other jargon-heavy "investment vehicles". Banking talents seemed to lie in obfuscation rather than financial genius. Banking solvency suddenly became an issue as banks were revealed to be over-leveraged and over-exposed.
The solution in the US was the TARP, which hoovered up illiquid "troubled assets" in return for spreadsheet honesty, the conservatorship of Fannie Mae and Freddie Mac, the bailing out of AIG, and Dodd-Frank regulation to ensure mistakes were not repeated.
In contrast, the UK (and Europe to a lesser extent) nationalised bad banks and kept credit spreads fairly opaque, fearing that to allow any of its interconnected clique of megabanks to fail would precipitate a domino effect. Private debt effectively became public debt overnight. Privatised profits and socialised losses united socialists and capitalists in anger against a managerialised system.
As banks all deleveraged at once, a credit crunch ensued. Servicing nationalised debts on already fragile fiscal bases became untenable in the politically undecided and therefore economically rootless eurozone. As market confusion spread over where the buck effectively stopped within EU institutions, debt prices for PIIGS began to rocket and further "stop-gap" bailouts were required.
A fall in money stock, caused by a credit crunch, is usually followed by a fall in prices, i.e. deflation, as stable services and goods chase less money. However, central banks, as Milton Friedman famously said, "are always looking to correct their last mistakes". Deflation is the spectre that haunts the mistakes made by central banks during the Great Depression. And so the central banks print money. They print money for government bailouts, print money to get banks loaning, print money to increase general liquidity.
The problem with all this is that loose monetary policy caused the mess in the first place. And it is now prompting moral hazard by acting as its own solution. It insincerely pretends to fight off the deflation that would raise the debt burden because in fact central banks don't want you use their quantitative easing (QE) to pay off debt because that would decrease the money supply (causing deflation); in fact, they want you to increase your debt in order to buy irresponsibly and continue the consumption bubble that would continue the prosperity illusion.
Side effects of deflation, such as a fall in economic activity, might be painful but all the pain is, in reality, the burning away of the inflation that no longer reflected the actual wealth produced. Shattering illusions of prosperity caused by money pumping. Would you rather live in a castle on a cloud or a house on the ground?
The debate on what principles our monetary system should be based upon, whether it be fiduciary, commodity-based or various hybrids, is for another place at another time but what must be clear is that fiat money and fractional reserve banking do not impose a natural limit on the growth of money supply. The current system has failed us and yet no real debate on the essentials seems to be occurring.
Follow Henry on Twitter @TheHolySmoke